Our Komondor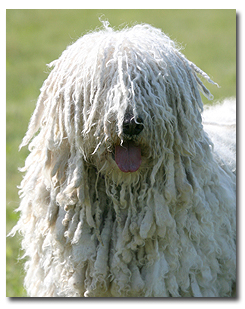 Ibis Encore CGC TDI TT
"Niea"
S: CH Meadow View Luck of the Draw
SS: BISS Can CH Am CH Gillian's Instant Replay, R.O.M.
SD: CH Meadow View Csinoska Sarabi, R.O.M.
D: CH Cordrush Klondike Kate
DS: CH Agyu-Golyo Ambassador
DD: CH Brae's Tears Of Angels
Niea is a stunning female Komondor. Both her sire and dam were in the top ten of the breed during their showing careers. She is a big girl with a gorgeous head and beautiful corded coat. She stands out in almost any crowd. She is also surprisingly agile for such a big dog and loves to run and play on the farm with her best friend, Tasha.
Niea is a sweet girl that loves attention, however, she is all Komondor and takes her job as a guardian to our farm and family very seriously. She has passed her Canine Good Citizen test and her TDI certification as a therapy dog. Her calm demeanor, gentle ways, and unique appearance are building her quite a fan club in her therapy work. Niea is also one of the few Komondorok that have taken the American Temperament Test Society's temperament test and has the TT title. We feel lucky to have her as part of our family.
To view many more photos of Niea please visit her photo album.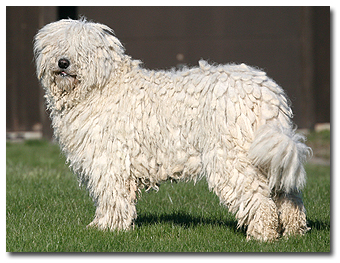 The Komondor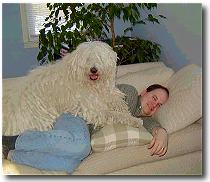 Bonnie - the 100lb lap dog
The Komondor is an ancient breed originating in Hungary. Its original job, one many Komondorok (the plural of "Komondor") still perform today, was as a livestock guard. Don't let that beautiful white coat fool you – there is a serious guard dog under all those cords! When meeting a Komondor it's best to be properly introduced. The Komondor takes it job very seriously, and although it is loving to family, strangers are viewed with great suspicion and Komodorok will guard their charges with their lives. They are independent thinkers and are highly intelligent.
Of course one of the most notable physical attributes of the Komondor besides its large size is its unique coat. The cording of the Komondor's snow white coat is a completely natural process and the dog's coat will fully cord within two years from birth. This special coat is completely weatherproof and allows the Komondor to do its job in all kinds of weather. Although the Komondor does not shed, the coat does require quite a lot of regular maintenance to keep it looking its best.
Komondorok are incredibly intelligent and loyal companions – but they are not for everyone. For more information about the breed, including the breed standard, check out our links page.
Our first Komondor - Ch Ibis Copyright By Irie (1994 -2004)
"Bonnie"