Silfurtá frá Vatnsleysu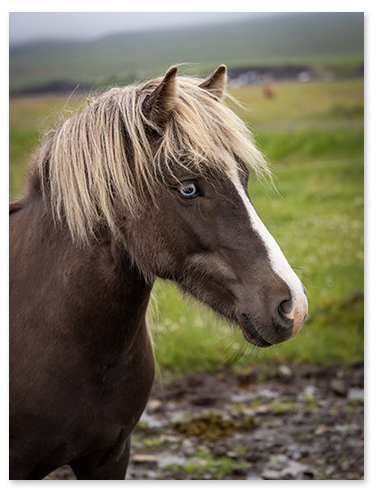 IS2019258518
S: Hrímnir frá Vatnsleysu
SS:Lord frá Vatnsleysu
SD:Heba frá Vatnsleysu
D:Hvönn frá Vatnsleysu
DS: Glampi frá Vatnsleysu
DD:Sóley frá Ingunnarstöðum
From the legendary Vatnsleysa breeding farm in Iceland, Silfurtá is a promising five gaited filly that we simply could not pass up. Already extremely calm and people friendly this filly is an ideal combination of excellent bloodlines and a super special color – silver dapple black with a blaze and a blue eye (splash). We're super happy to have her part of the Sand Meadow family.
Silfurtá's pedigree provides her with solid genetics of excellent riding horses. Her sire, Hrímnir frá Vatnsleysu is a stunning first prize (8.04) silver dapple stallion that has also been successfully shown. His sire, first prize Lord frá Vatnsleysu, scored 8.25 overall without pace, though he is a five gaited stallion. Lord's talents have also made him successful on the competition track in four gait. In 2016 Lord was a B finalist in B-Class (four gait) at the Landsmót. Silfurtá's dam is Hvönn frá Vatnsleysu. Hvönn is a very talented mare with huge movements that is so calm and easy she can be ridden by almost anyone. Hvönn's sire is the famous Glampi frá Vatnsleysu. Glampi was a first prize stallion (8.35 total) that was also awarded first prize for offspring. Known as "The People's Horse" he was a very successful competition horse with the extremely high and flashy movement that the Vatnsleysa line is known for. He was a finalist in both the 1998 and 2000 Landsm ót in the B-Class (four gait).
Silfurtá is already showing a very calm and easy character, plus a lot of natural tolt. For now she will stay with her friends at Vatnsleysa growing up healthy and strong on Iceland's large pastures. We look forward to watching her develop.
For more information on Silfurtá please contact us.