Sædís frá Melabergi
1997 - 2022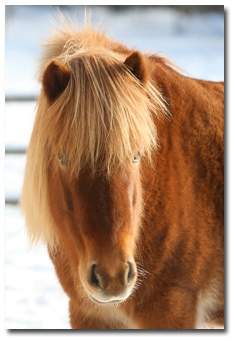 IS1997225851
S: Roði frá Múla
SS: Orri frá Þúfu
SD: Litla-Þruma frá Múla
D: Sveifla frá Bakka
DS: Hervar frá Sauðárkróki
DD: Skjóna frá Bakka
Head – 7.5
Neck/Withers/Shoulders – 8.0
Back/Hindquarters – 8.0
Proportions – 8.0
Quality of Legs – 7.5
Leg Structure – 7.5
Hooves – 8.5
Mane/Tail – 8.0

Total Conformation – 7.93
Tolt – 8.5
Trot – 8.0
Pace – 7.0
Canter/Gallop – 8.0
Willingness/Temperament – 8.5
General Impression – 8.5
Walk – 7.5
Slow Tolt – 8.0
Slow Canter - 8.0
Total Ridability - 8.15

Total 8.06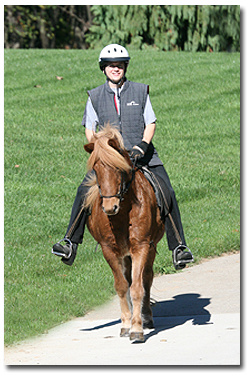 Sædís was a beautiful and sweet first prize chestnut mare that was an important member of our family. She was extensively trained by some of the top Icelandic trainers/riders such as Sigurbjörn Bárðarson ("Diddi"), Gudmar Petursson, and Ísólfur Líndal ήórisson. All pronounced Sædís an excellent riding and breeding horse. She was successful not only in breeding evaluations, but in sport competitions as well. She also participated in many major demonstrations of Icelandic horse in the US, such as the Knights of Iceland team. To top it off she was an incredible broodmare for us. She is sorely missed.
Sædís' sire was Roði frá Múla. Roði obtained a first prize rating as a four gaited horse with limited showing. He proved to be an excellent sire and obtained the prestigious title of first prize for offspring. From his sire, honor prize stallion Orri frá Þúfu - one of the top Icelandic stallions of all time, Roði passes along excellent supple tolt with much power. From his maternal grandsire Gustur frá Sauðárkróki, he gets an excellent neck, something that is often lacking in the Orri line. Sædís was lucky enough to inherit all the positives of the Orri line along with the long and supple neck of Gustur as well. Sædís dam, Sveifla frá Bakka, was a second prize four gaited mare with excellent scores. She was a daughter of the famous honor prize stallion Hervar frá Sauðárkróki.
Though Sædís was genetically five gaited, she was what is often called in practical terms, a four and a half gaited horse. This means she had four excellent gaits and when ridden by an experienced rider could also show some flying pace. However, she was a natural tolter first and foremost with tolt as her favorite gait. Her tolt was extremely supple and she was able to perform it at all speeds with beautiful action and movements. Her other gaits were also excellent. She had a very proud and regal look under saddle and enjoyed working. She was fearless on the trail or in a large demonstrations. Although she was very flashy her gaits were smooth and comfortable and she was great fun out on the trails.
One of the things that drew us to Sædís was her nice long, supple, and well raised neck. This is something that is very unusual to see in an Orri line horse where thick, short necks tend to be the norm. She was also well proportioned with long legs and a nice strong back. Her hooves were very strong and well formed and her mane and tail were long and flowing. She was as pretty standing in the pasture as she is under saddle. We miss seeing her beautiful face and big, soft eyes.
But what was most special about Sædís was her incredibly sweet character. She was a pleasure in every way and always tried her best to please. And not only did she have this awesome character, but almost without exception she passed it along to each of her foals. Almost all her offspring displayed the same sweetness and willingness from birth. We like to joke that it's as if they were born trained! She leaves behind an impressive legacy. We can't thank her enough for all she has given us.
Sædís's Offspring:
2010 - Magni from Sand Meadow - chestnut gelding with a star/snip
2011 - Þoka from Sand Meadow - brown/black mare
2012 - Álfadís from Sand Meadow- chestnut mare
2014 - Venus from Sand Meadow- light bay with a star mare
2017 - Baldur from Sand Meadow- chestnut with a star and snip gelding
2019 - Krϊna from Sand Meadow- chestnut pinto filly
2020 - Embla from Sand Meadow- chestnut with a star and snip + splash filly
2022 - Kristall from Sand Meadow- chestnut with a star, snip, and blue eye + splash colt

Sædís competing in Dillsburg, PA