Herborg frá Oddhóli
IS2008286050
S: Grunur frá Oddhóli
SS: Kraflar frá Miðsitju
SD: Gola frá Brekkum
D: Hekla frá Oddhóli
DS: Ófeigur frá Flugumýri
DD: Gola frá Brekkum
Herborg is a super sweet bay dun five gaited mare. She is a half-sister (same mother) to our beloved Hergill and when we had the opportunity to get a mare with such great bloodlines plus amazing character we had to jump at the chance!
Herborg's sire is the amazing stallion Grunur frá Oddhóli. In addition to being evaluated first prize himself, he was also winner of the winner of the Tolt at the 2006 Landsmót - and has been awarded first prize for the quality of his offspring. Grunur himself is the product of two honor prize horses: Kraflar frá Miðsitju and Gola frá Brekkum. Herborg's dam also been a very successful breeding horse having produced four first prize offspring (including our Hergill) to date. She is from the famous honor prize stallion, Ófeigur frá Flugumýri and the honor prize mare Gola frá Brekkum. This means that all four of Herborg's grandparents have reached the amazing achievement of being awarded honor prize for offspring. And with Gola frá Brekkum on both sides of her pedigree Herborg has a lot of line bred strength. These are the kinds of proven bloodlines we look for in our breeding horses.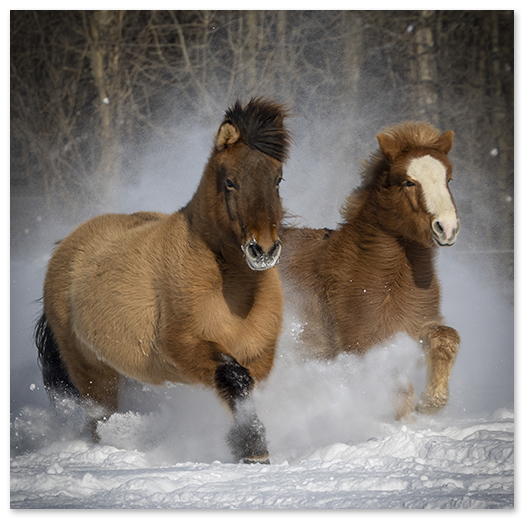 Herborg and her 2021 filly, Lúta from Sand Meadow (S: Strákur frá Vatnsleysu)
Herborg's Offspring:
2020 - Táta from Sand Meadow- red dun with a blaze + splash filly

2021 - Lúta from Sand Meadow- chestnut with a blaze, socks + splash filly


Herborg may be available for purchase or breeding lease.
Please contact us for more information on Herborg.
To view many more photos and videos of Herborg please visit her photo album.