Valkyrja frá Lambeyrum
IS2011238426
S: Álfur frá Selfossi
SS: Orri frá Þúfu
SD: Álfadís frá Selfossi
D: Vaka frá Þúfu
DS: Mjölnir frá Sandhólaferju
DD: Steina frá Þúfu
Head – 7.5
Neck/Withers/Shoulders – 8.0
Back/Croup – 8.0
Proportions – 8.5
Quality of Legs – 8.5
Leg Structure – 7.0
Hooves – 8.5
Mane/Tail – 7.0

Total Conformation – 8.09
Tolt – 8.0
Trot – 8.0
Pace – 8.0
Gallop – 8.0
Spirit – 8.5
General Impression – 8.0
Walk – 7.5
Slow Tolt – 8.0
Slow Canter - 7.0
Total Ridability - 8.04

Total 8.06
Valkyrja is a very large (14.2h) and beautiful five gaited first prize pinto mare. She is the total package - excellent character, beautiful conformation, althetic talents, and pretty color. She has not only been evaluated first prize, but also been successful in Tolt competitions in Iceland. We are so excited to have this fabulous mare join the Sand Meadow family!
Valkyrja has excellent bloodlines with proven genetics. Her sire, Álfur, is a highly evaluated first prize stallion with a 9.5 for tolt that has received the honor prize for the quality of his offspring. Álfur is now in Norway, so the offspring he had while still in Iceland are highly sought after. Álfur comes from probably two of the most famous horses in Icelandic horse breeding, the great honor prize stallion Orri frá Þúfu í Landeyjum (8.34) and the honor prize mare, ÁlfadÍs frá Selfossi (8.31). Valkyrja's dam Vaka frá Þúfu is a daughter of Mjölnir frá Sandhólaferju (8.16) - a first prize stallion with a perfect 10 for tolt.
Though quite talented Valkyrja has a gentle temperment that allows her to be ridden by almost anyone. She is polite, friendly, and sweet - exactly the character we look for in our riding and breeding horses. We look forward to many years with her part of the Sand Meadow herd.
To view more photos of Valkyrja please visit her photo album.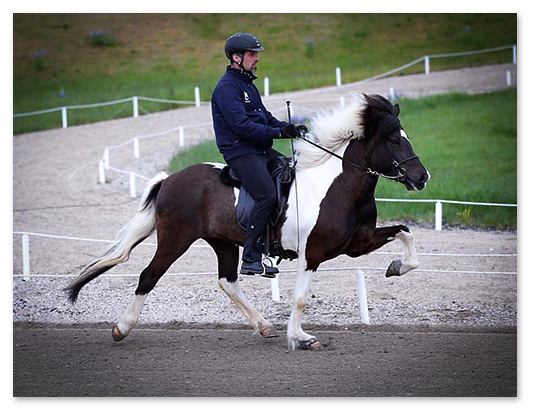 Valkyrja presented at a breeding evaluation in Iceland
Valkyrja is being bred to our stallion, Strákur frá Vatnsleysu, for a 2023 foal.
Please contact us for more information.